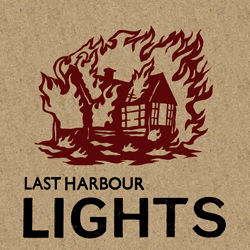 Lights mini-album
LRR025
CD/download
Release date: 14th February 2011

6 songs // half an hour of music // Lights film // letterpressed sleeve and inserts printed by hand // screenprinted comic. The Lights mini-album features two alternate versions of songs from Volo, Last Harbour's 2010 album : Lights and If They're Right. Beyond are four new songs that throw a different slant on the band. Simpler and sparser, their drama is created through small detail. Where Volo worked on a grand scale, these undemonstrative new songs work together like Autumn fades into Winter - imperceptibly, quietly and with a little nostalgia. This screenprinted comic, tracing the story of the songs, comes with every copy.
PRESS: AMERICANA UK "Grandeur and lush darkness." // DELUSIONS OF ADEQUACY "Baroque rustic noir favouring melancholy over melodrama, with perhaps a hint of Neil Young at his most contented and countrified." // NORMAN "A rich blend of Lambchop/Seeds/Smog-style gothic country folk."