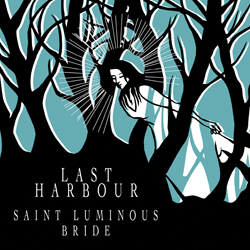 Saint Luminous Bride EP
LRR012
Limited edition 10" vinyl & download
Release date: 25th May 2009
This 10" vinyl EP (limited to just 350 copies) features one of the standout songs from the Dead Fires & The Lonely Spark album, plus three others from the same sessions that are equally beautiful but also bleaker and heavier in mood. They're the perfect uncomfortable bedfellows on a record that takes the warning fables of Edgar Allen Poe and weds them to music of dark passion and fervour.


PRESS: CHANNEL 4 PLANET SOUND A dark, drunken waltz, Kevin Craig's cavernous vocals out-gloom Tindersticks as the mournful strings kidnap your soul. Equally grimy and gorgeous. 8/10. // DIE SHELLSUIT DIE "Sounds how Bon Iver might if they only played at wakes. [It] crackles with revolutionary vitriol and melancholy." // GOD IS IN THE TV "It is impossible not to fall in love with vocalist K Craig's apocalyptic tone. Last Harbour are in touch with the old Manchester, channelling the ghosts of the industrial age, a gloom that predates 'Closer' and 'Unknown Pleasures' by a century and a half."